Medium
Reporting Requirements:
As spelled out in NDCC 57-51.1-07.7, each city that receives a distribution from this fund is required to provide a report to the Office of State Treasurer on the usage of the funds received by November 30 of each even-numbered year. This reporting will be done online via the Office of State Treasurer's website and will provide for review of the reported information by the general public.
Failure to report in a timely manner or in the correct format will make said city ineligible for funding during the subsequent biennium. Using the funding in a manner inconsistent with the requirements for eligible projects will reduce any future grants to that city by the amount spent on ineligible projects.
How to Report:
In order to submit a report, please click here and you will be taken to the infrastructure funding reporting page.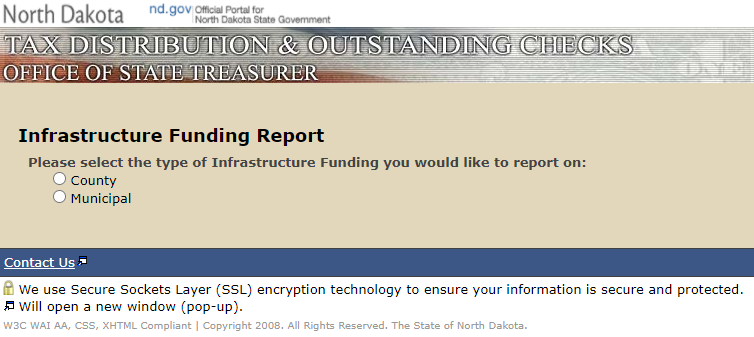 For step-by-step instructions on how to submit a report for your city, please view or download our instructions here. 
Searching/Viewing Submitted Reports:
To search for and view verified reports which have been submitted by the entities, please click here. This page will allow you to search, view, and download the information from all reports that have been submitted to the Office of State Treasurer.