Medium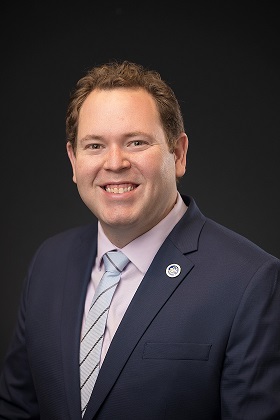 Treasurer Thomas Beadle was elected in 2020 to serve as North Dakota's 34th State Treasurer.  Thomas brings a commitment to transparency, accountability and efficiency to the Office of State Treasurer. He believes that we have a duty to protect taxpayer dollars and promote fiscal responsibility. 
Thomas has a background in commercial real estate investment and brokerage. He previously served as a State Representative for North Dakota's 27th district from 2010-2020, serving on numerous committees, including the Appropriations committee, and focused on expanding our economy, developing our workforce and bringing new technologies to our region. 
Coming from a family that is fiercely devoted to public service, Thomas believes in giving back to the community. He serves on the board for the North Dakota Autism Center, and has been active in judging for the state high school forensics community, and previously coached Speech and Debate at Fargo North. Thomas's stepfather, Tony Grindberg, was a longtime State Senator (1992-2014) and Fargo City Commissioner and his grandfather, Earl Strinden, was a city councilman in Grand Forks, and a longtime State Representative (1966-1988) and House Majority Leader. 
In addition to the responsibilities of his office, as required by statute or Constitution Beadle serves on six Boards: North Dakota State Investment Board which oversees the investment programs of several funds including the Legacy Fund, public pensions, insurance trust; the Teachers Fund for Retirement Board (TFFR), North Dakota Board of University and School Lands, State Board of Tax Equalization, the State Historical Board, and the State Canvassing Board.
Thomas and his wife Shana live in Bismarck with their dog Eisenhower.